It's Friday, school's back in session, and I'm looking forward to the weekend–so today, we're talking cookbooks. For a more substantial read, check out this not-new-but-really great essay from Brit Bennett.
This book is worth it just for that cover recipe- but, seriously, here's a man who knows how to treat a veggie. For more of his genius, search "Ottolenghi" on this blog and see the million ways he's changed my life.
Run Fast, Eat Slow- Shalane Flanagan & Elyse Kopecky
Everyone and their brother is eating the Superhero muffins from this book– what could be better than zucchini, carrots, nuts, and cinnamon all wrapped up in the perfect pre-run muffin? The amazing American marathoner Shalane Flanagan teamed up with a college teammate to create a book dedicated to athletes and the fuel that nourishes them. Lots of the book is gluten free, most of the book is sugar-free, and all of the recipes are DELICIOUS. In just this week I've made the aforementioned delicious muffins, zucchini-quinoa risotto, cherry tomato and shrimp pasta, and a sweet potato salad that might have changed my core character– I'm obsessed.  The best part about this book is that they've given a purpose to each recipe– sweet potato fries are "whole foods carb0-loading," giddy up energy bites are "for preworkout energy," and the Greek bison burgers are just perfect "for pumping iron." Makes meal planning painless.
The Complete Book of Greek Cooking- Rena Salaman & Jan Cutler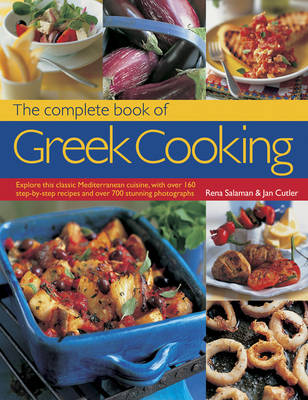 NePaKef found this for me in the bargain bin at Books a Million (tells you how long I've had this book, DC people!), and I was highly skeptical of a book about Greek food written by two people with very unGreek last names. HOWEVER. Some of my favorite Greek recipes come from this book- this twist on the old spinach pie classic, a surprisingly good pine nut tart, and this sausage-meatball hybrid that's quickly become MrKef's favorite that I really need to share on this blog. Unlike many Greek cookbooks, there's no discussion of tea cups for measurement– the recipes are easy to follow and their success is easy to replicate. My copy is well-loved, and I bet yours would be, too.
I missed the Whole 30 train –but I love this dang book. It's filled cover to cover with grainfree, glutenfree, dairy free, sugar free recipes that are quick, easy, and delicious. The sweet potato salmon cakes are a staple in my lunchbag these days, and MrKef is loving the grilled curry-coconut chicken. I love not having to dream up substitutes for sugary sauces. All the flavor, none of the crap–totally my bag.
This was my first "grown up' cookbook wayyyyy back in my Bryant Street days, when GrewUponASoybeanFarmKef and I would try to make the Swiss Meringue buttercream ten times in a weekend before we finally got it to set up correctly. Brown's recipes aren't simple– these are day-long, sometimes full-weekend baking projects–but the payoff is huge: a mojito cake with fresh mint and a rum buttercream icing? Yes please. If you want to learn about the art of cake making, I love this approachable, clearly-written, gonna-be-delicious-even-if-you-eff-it-up cookbook as a starting point.
Thanks to Courtney, Cynthia, and Mar for coordinating the Friday 5 Link Up!